FAQ
Get to know how Tygeris works before choosing the best option for you.
⍰ What is Tygeris Manager and Tygeris Editor?
Tygeris Manager is used to manage all translations, tools and other administration concerned with translations. It is mostly used by managers.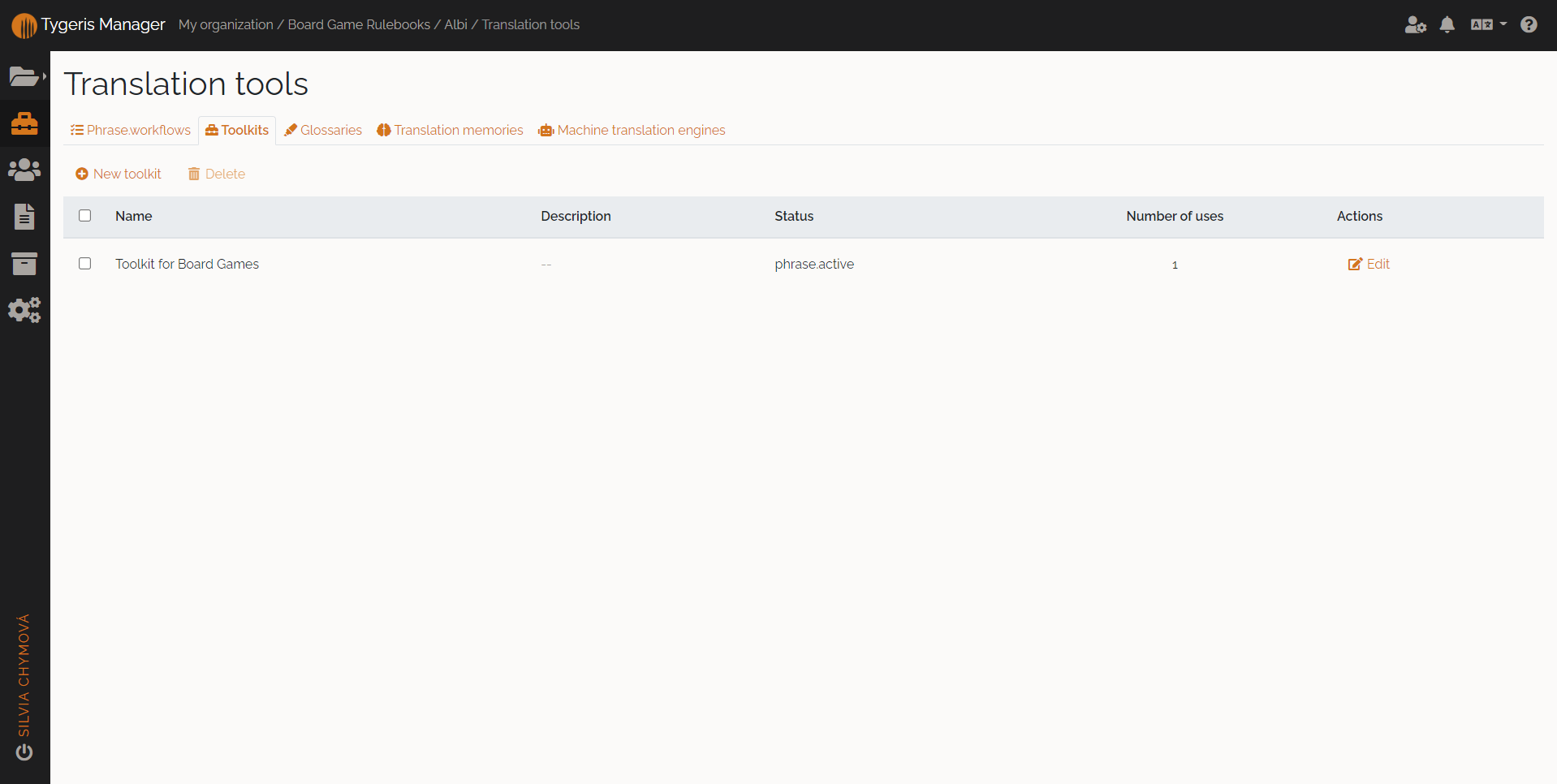 Tygeris Editor is user intereface in which the actual translation takes place. It is mostly used by translators or proof-readers.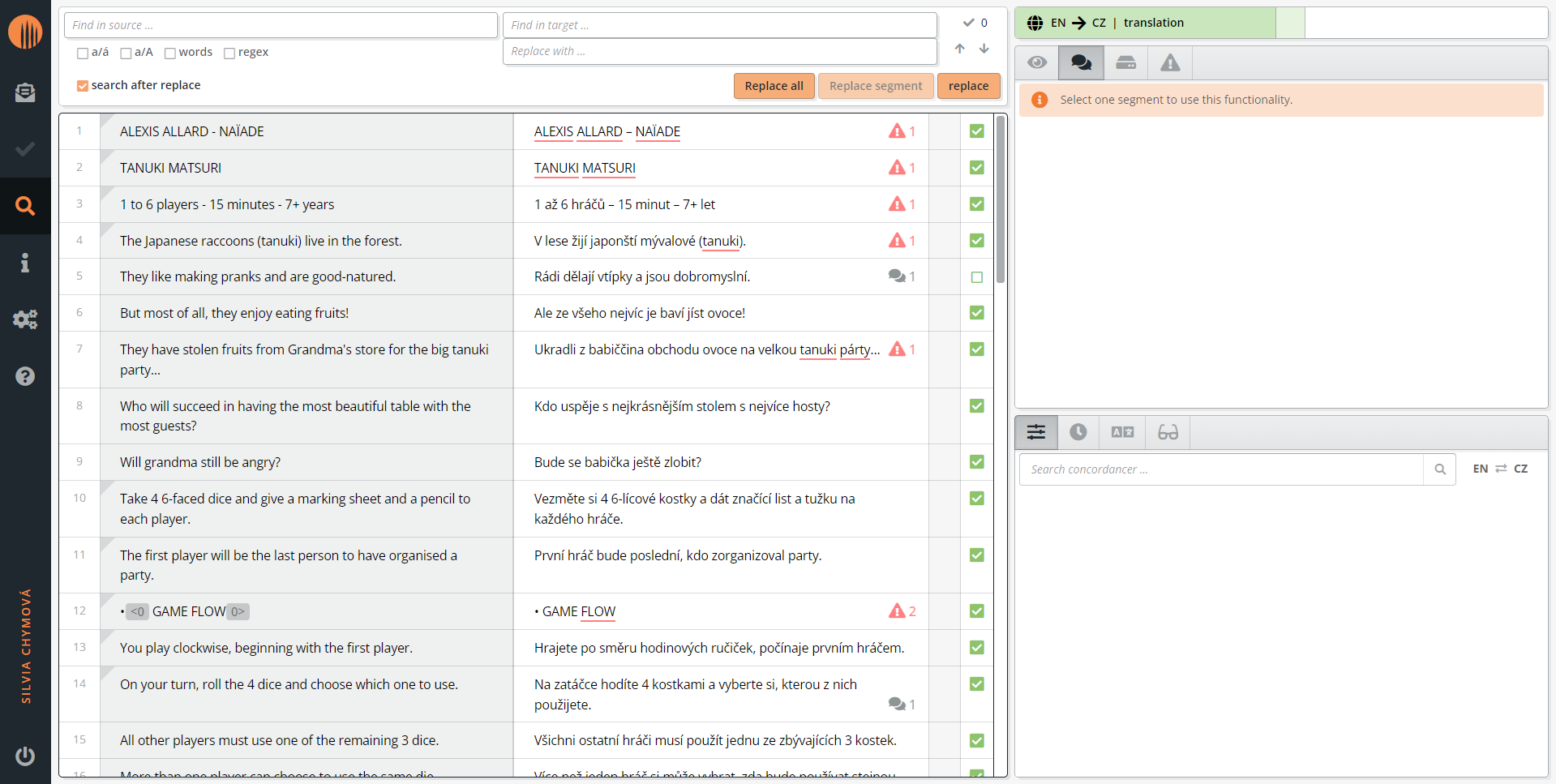 ---
⍰ What is the difference between translator and company subscriptions?
When using translator subscription, the account is linked to the name of the user. The user himself/herself is responsible for any actions taken under the account.

When using company subscription, the account is linked to the name of the organization. The organization administrator is responsible for any actions taken under the account. There must always be at least one organization administrator.
⍰ Does Tygeris behave differently based on the subscription?
No, the main differences are available features.
Regardless of the subscription, the way of work is always the same:
Private user or organization administrator manages all resources (translation tools, workflows, users) which can be used throughout all projects.
Projects must include one or more orders. Projects as well as orders can contain specific files and settings available only within them.
Orders include documents to be translated which are assigned to users based on their language skills.
Documents can be translated into all supported languages.
Translations are submitted and can become documents to be translated into other languages.
---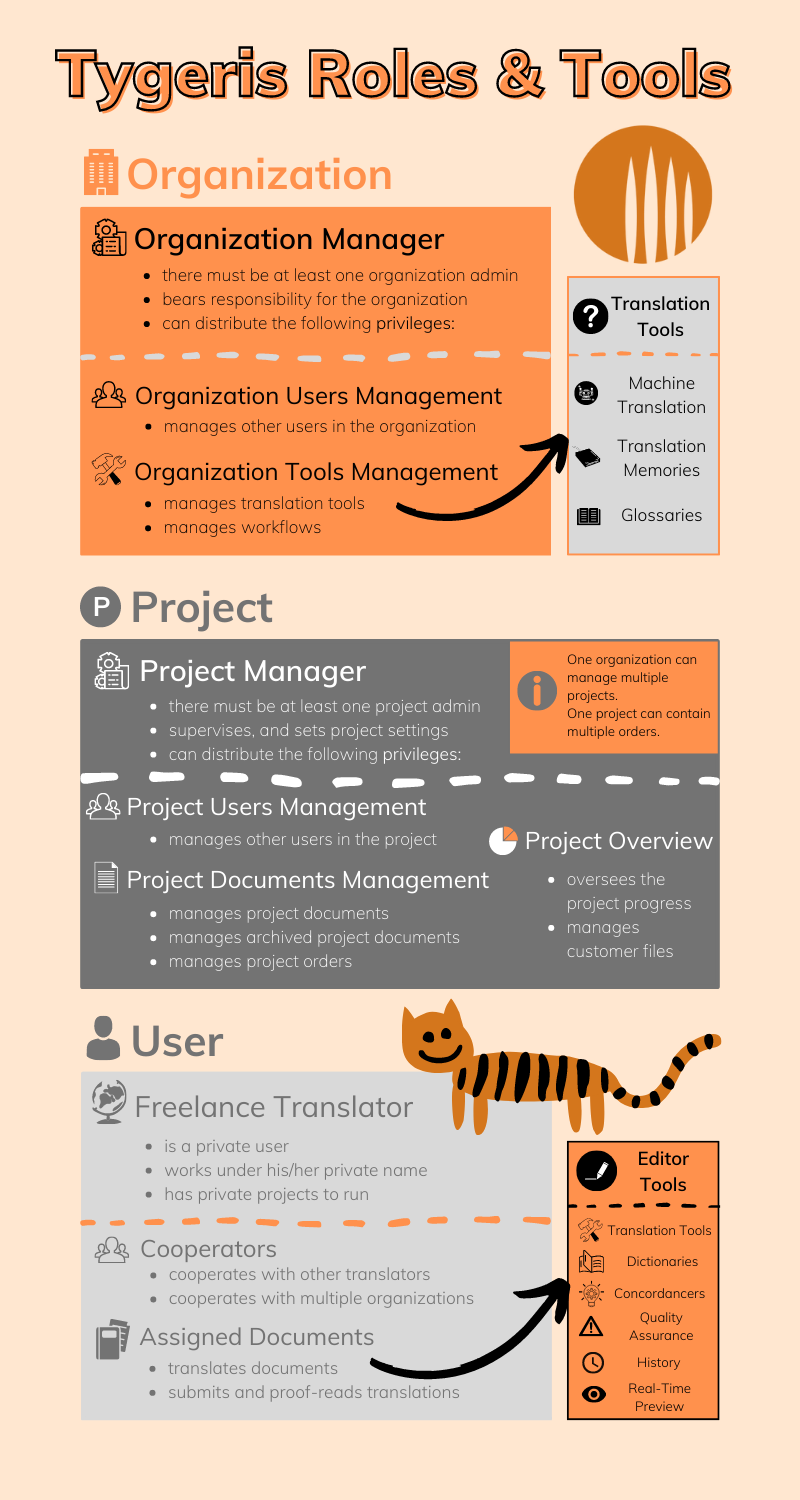 ⍰ What is the difference between user and co-operator?
When using translator subscription, user is the person owning the account. This user can link other people to their account (i.e. granting access to various projects or specific documents). These linked users are called co-operators and they can be added or removed over time (unlike the owning user).
When using company subscription, there is no direct user owning the account. At all times, there must be at least one organization administrator, however, this privilege can be granted to various people. Users within the company can be added or removed over time. This creates flexibility allowing the organization to always fit into the user limit thanks to working only with the essential people at all times.
Any user can be part of any number of private teams and/or organizations as long as the subscription of the inviting party allows it. They can also act in various roles based on the privileges granted to them.
⍰ I am an organization manager/private user. What can I manage?
As a manager, you can use and prepare for your projects the following translation tools:
You can also manage:
users and their roles,
workflows,
files.
⍰ I am a translator. What tools can I utilise while translating?
Based on your subcsription and languages, you can use the following tools:
translation tools (machine translation, translation memory, glossary),
real-time translation or document preview,
dictionaries (including new entries suggetions),
direct link to Wikipedia,
find and replace tool,
segment history,
segment commentaries.
---
⍰ What translation languages are supported?
You can translate to/from the following languages:
| | | | | |
| --- | --- | --- | --- | --- |
| Bulgarian | English | Italian | Romanian | Turkish |
| Catalan | Finnish | Japanese | Russian | Ukrainian |
| Croatian | French | Latvian | Serbian | Vietnamese |
| Czech | German | Lithuanian | Slovak | |
| Danish | Greek | Norwegian | Slovene | |
| Chinese | Hungarian | Polish | Spanish | |
| Dutch | Indonesian | Portuguese | Swedish | |
---
⍰ What is included within the document storage capacity?
Document storage capacity contains the following files:
---
⍰ What import and export formats are supported?
| | |
| --- | --- |
| Type | Format |
| Microsoft Office | .docx, .xlsx, .pptx |
| Open Office | .odt, .ott, .ods, .ots, .odp,  .otp |
| Publication | .mif, .idml, .icml, .dita |
| Web | .htm, .html, .xhtml |
| Exchange | .xml, .json, .yml, .yaml, .dtd, .csv, .tsv |
| Localization | .srt, .xlf, .xliff, .sdlxliff, .ttx, .po |
| Other | .txt, .properties, .strings, .resx, .wix |
---
⍰ What does "monthly machine translation volume" mean and how is it counted?
"Machine translation volume" refers to how many characters are going to be translated from the source language to the target language using Lingea Translator. When translating, the source language characters are being counted, spaces included.
---
⍰ What machine translation engines are supported?
Lingea Translator – supports translations to/from 32 languages.
Copier – dummy translator that copies sentences.
Uppercaser – dummy translator that uppercases sentences.
---
⍰ What quality assurance tools does Tygeris contain?
Spell checker by Lingea. Glossary-based check depending on the imported glossary file.
---
⍰ What are the differences between dictionary types?
The content of the dictionary type differs according to the language pair. See the dictionary overview.
---
⍰ How can I use translation memory and glossaries?
Both, translation memories (format TMX) and glossaries, can be imported and exported. New (clean) files can be created within Tygeris interface.
---
⍰ For which languages are monolingual corpus concordances supported?
Monolingual corpus concordances are supported for the following languages:
⍰ What does Basic support include? What does Advanced support include?
Basic support means that you can let us know about your ideas and requests here: tygeris@lingea.com and we will do our best to solve them as soon as possible. However, there is no strict policy as to when.
Advanced support guarantees that we will answer within 48 hours (workdays).
---
⍰ What is included within Lingea single sign-on?
Tygeris is linked to Lingea User Centre. That way, you can use in Tygeris any Lingea products you have already purchased: